Sanigone - Sanitise And Its All Gone

SANIGONE is a highly effective sanitiser and disinfectant that eliminates 99.99% of ALL enveloped coronaviruses together with yeast, fungi, and mold for up to 48 hours after each application.
SANIGONE  is a  total release room sanitiser which is reassuringly quick and easy to use.  lt gives immediate protection and peace of mind to staff and customers.  lt is safe to use in ALL commercial and household areas including, but not limited to, care homes, hotels, pubs, restaurants, hairdressers, and nail bars enabling businesses to return to work within the safe distancing guidelines.
SANIGONE  is also safe to use in food preparation areas.  No food should be left out during the sanitisation process.
SANIGONE  aerosols contain a  propellant which when activated emits a  mist of the powerful sanitising ingredients which quickly provide full coverage to all surfaces even in the hardest to reach places.  Very importantly,  it also protects contact areas such as door handles and light switches.  lt reduces the risk of contamination in high traffic areas such as lifts and bathrooms.
SANIGONE  is portable and requires no special training or protective equipment for use,  thus eliminating the need for expensive cleaning companies and fogging machines.
SANIGONE MUST be used in accordance with the manufacturer's instructions.  Each aerosol covers an area of  6◇m³ leaving the space delicately scented with pine. lt evaporates in minutes killing viruses and germs as it dries leaving no residue or staining.
SANIGONE ls manufactured in the UK to BS EN 1276, BS EN 165◇ and BS EN 14476, Full certification is provided.
SANIGONE ls proud to be supporting a UK manufacturer especially in these difficult economic times.
SANIGONE aerosol cans are re recyclable including the lids so cutting down on plastic waste.
Used regularly SANIGONE can keep your commercial and home space safe from Coronaviruses and other bacteria.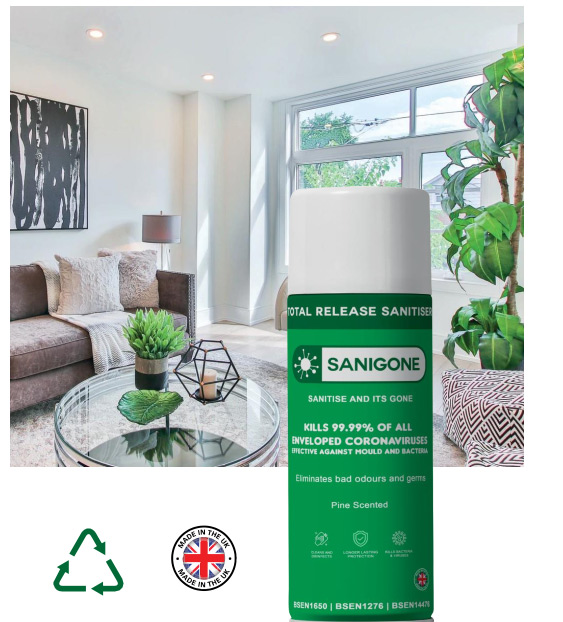 SANIGONE PRICE LIST 2020
£15.99 per unit + VAT   -  1 to 3348 units (1 pallet)
£14.99 per unit + VAT   -  3349 to 10,044 units
£13.99 per unit + VAT  -   10,045 units and above
Delivery charges
£44.99+VAT per halfpallet
£49.99 + VAT per pallet
MAK Integrated Services holds SIA approved contractor status for the provision of Security Guarding and Key Holding Services. ISO Cert No.7971