K9 Security Services in Manchester, Liverpool, London and Nationwide
MAK Security provide highly trained K9 dogs for properties and events across the UK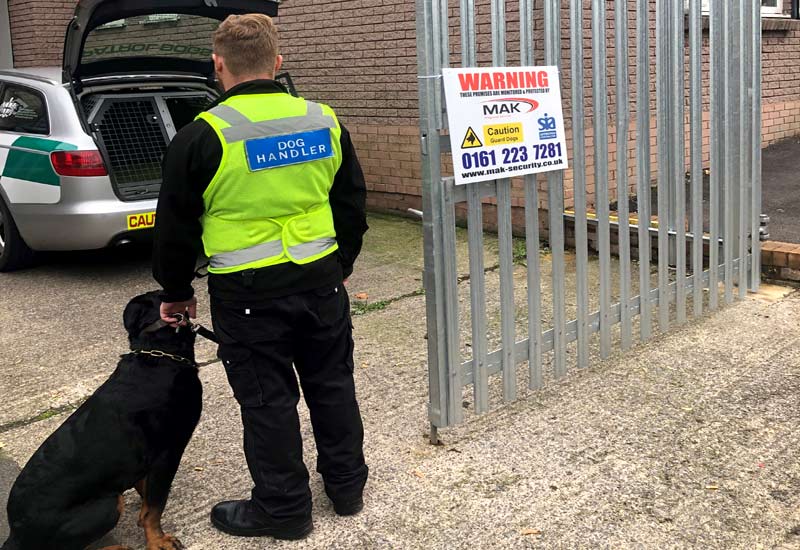 K9 Security Services
We are leaders in the field when it comes to K9 Security Manchester, boasting a team of highly qualified and trained K9 dogs and dog handlers.
Our K9 security service if available 24/7 and 365 days a year making us the security company to contact if you are looking for the best security dog services in Manchester.
K9 Dogs provide a mighty presence in combating anti-social behaviour and crime at all types of events and social gatherings.
MAK Security offers a great K9 security Manchester service to safeguard you and your property. We always make an arrest or stop criminals when we deploy a K9 dog team.
Security K9 dogs are trained to pick up on intruders or hidden persons within the patrol and to protect their handler by standing their ground and showing controlled aggression. The Dogs are also trained to accept other people in their environment and to only react, on command, if a specific threat is made against the handler which prevents general aggressive behaviors.
Whether it is for a specific event or premises that needs constant protection, we can help to prevent you from becoming a victim of crime. We have a team of professional dog handlers and well-trained dogs working round the clock, so you can rest assured that your property is well guarded.
A security dog's sharp senses of sight, sound and smell mean that just one dog handler performs the work of several static security guards, making your investment in security dogs and handlers a cost-effective decision.
Our services include
» Excellent dog handling service
» Well-trained dogs
» Expert dog-handlers
» Commercial and domestic properties guarded
» Patrol dogs and static dog guarding available
» Dog Handler Mobile Patrol
» We can also provide you with mobile dog patrols and on site dog patrols.
What we secure against
» Theft of plant machinery
» Theft of fuel
» Theft of materials
» Vandalism & Arson
» Breaches of security into buildings
» Robbery or attacks on staff
» Intruders
» Protesters
Potential incidents that may include the use of explosives, illegal drugs, wildlife, currency, blood and contraband electronics such as illicit devices
MAK Integrated Services holds SIA approved contractor status for the provision of Security Guarding and Key Holding Services. ISO Cert No.7971