Safe and Secure Commercial Key Holding Services Manchester, Liverpool and Birmingham
MAK Security offer excellent commercial key holding services for properties across Greater Manchester and the North West.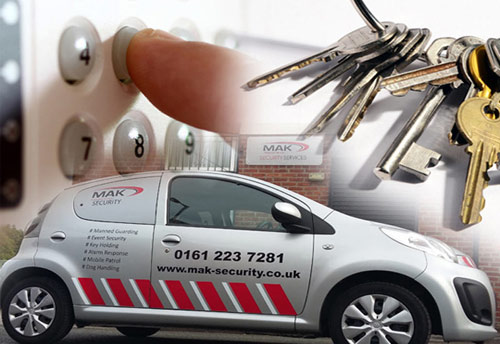 MAK Security provides reliable commercial key holding services in Manchester, Liverpool and Birmingham.
Our fully trained and vetted officers arrive promptly ensuring the safety of your business premises.
We secure your keys at a local key vault or mobile unit and ensure that the keys are given only to the authorised people.

What are Commercial Key Holding Services?
Simply put, we securely hold the keys for businesses in Manchester, Liverpool and Birmingham so can respond quickly whenever you may need us.
Fast Response
We are industry leaders when it comes to speed so when the alarm bell rings we are there to assist..fast!
Regulated Security
We comply with all relevant existing regulations when it comes to delivering highly professional key holding services Manchester.
Proven Track Record
We are have been providing key holding services to thousands of satisfied customers from homeowners to large businesses.
Key Collection
One of our security team will collect the keys from you and take notes on any special and relevant instructions to access your property safely and reset your alarm.
Keys Safely Stored
All the keys we hold for our clients are electronically tagged and held in a secure facility.
Many Years of Comercial Key Holding Experience
With many years of experience in the security industry offering commercial key holding services Manchester, Liverpool, Birmingham and throughout the North-East.
We have the knowledge and expertise to provide a first-class commercial key holding service and deal with all types of alarm systems and emergency incidents.
We are able to look after many types of businesses such as retail property, medical centres, schools, pubs, clubs and construction sites to name just a few.
Quick and Efficient Alarm Response
If you are looking for reliable commercial key holding services with a highly trained alarm response team to protect your property? Look no further and contact MAK Security.
In the event of an intruder alarm activation or an intruder breaking into your property, we get a warning from the alarm receiving centre and we will make sure that one of our liveried security vehicles is on-site taking action.
We assist your nominated key holder to assess why the alarm has been triggered or we will ensure your property's safety if we are the key holders.
We pride ourselves on our quick alarm response service and can guarantee to be at your building within a short time.
Mobile patrols Some locations will require constant 24-hour security, whilst others may require random security patrols day or night.
At MAK Security, we provide an excellent manned guarding patrolling service to your property, at random or pre-arranged times, to act as a visible deterrent to any potential intruders.
Mobile patrols are site-specific; you can take advantage to guard a standalone property or we can also provide a local security presence to cover a number of properties in a particular street.
We work closely with the local police ensuring all incidents are dealt with promptly and efficiently.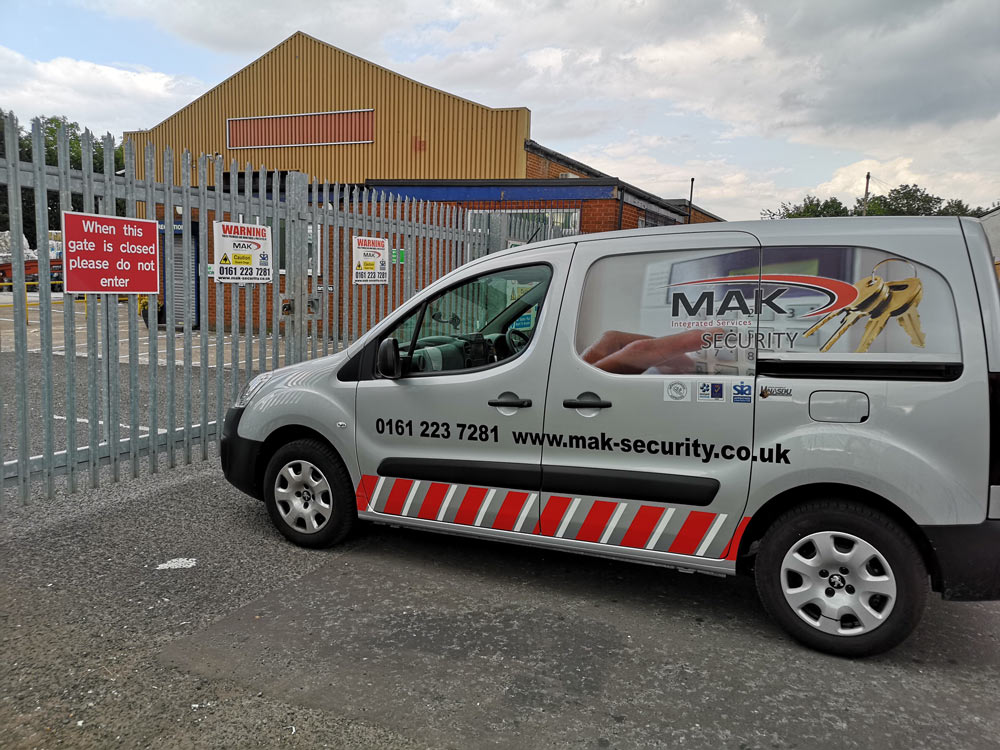 Who turns up
We provide professional, skilled and experienced key holding staff who are all fully trained to attend to your alarms, emergencies or other requirements.
Our security staff are SIA licensed, have completed job-specific training and have been trained by our SIA level 3 trainer and by our training manager who has over 30 years of front line experience working for the Greater Manchester Police.
What we do
Our officers are readily available to respond to your alarms, emergencies or other requirements.
Your site would have been previously set up on our secure system which includes all the information we require.
On-site we would complete an external and internal manned patrol.
We look for any signs of intrusion and site vulnerability.
Unlocks and locks can be arranged at specific times and depending on your requirements.
MAK invests in cutting edge technology and all the officers are equipped with reporting hardware that sends all reports, including pictures, in real-time.
What We Offer
» Dog unit mobile patrol available
» 24-hour security
» Licensed, uniformed mobile officers
» Scheduled locking and unlocking service
» Well-equipped vehicles
» Vehicles fit with tracking devices
» Mobile units to store your keys
» Storage units adhered to regulatory standards
» Access restricted to approved contractors
» Signage service to show the property is secured
» Well-trained security personnel
» Escort Service for Key Holders
In addition to the above services, we also offer a quick alarm response service for our clients. Get in touch with us now.
As an extension to our core business, MAK Security provides a same day courier service to our clients, operating 24 hours a day, 7 days a week, 365 days a year.
This same day service is immediate and flexible – meaning that we can collect and/or deliver at times that suit you or your clients, 24 hours a day.
In addition to the above services, we also offer a quick alarm response service for our clients. Get in touch with us now.
In addition to the above services, we also offer excellent dog handling services for clients in London, Birmingham and across the North West.
Contact us today.